I had been scouting out launch areas for months. I kept coming back to a place I found on Google Earth. I spent the day before hanging out with Sawyer driving to a few other places. That evening, Sawyer, Mom, Grandma, and I went to checkout the spot I'd found.
When I was describing where it was, Mom told me that it right by where we used to have a lake house. She then suggested a different place on around the corner and we went there. It was perfect! Public land, had a makeshift launch area, easy to get the truck in. That's when Mom told me that they took me there to play in the creek when I was 6 months old! What a neat circle that made.
The morning of the tournament I was nervous. I was fumbling around at 5:00 a.m. trying to rig up the kayak and launch it all while trying to be quiet as there were some guys sleeping in a tent nearby.
I got in the water right at 5:30 a.m. (the official launch time). There was a gentle sprinkle, but nothing worth getting rain gear fo. I turned on the fish finder and quickly found the brightness control. That screen is blinding when it's dark out. I was also pleased with the light that my YakAttack Visipole gave off. I could easily tie lures and what not.
I paddled a quarter mile upstream and realized that I forgot my phone tether and safety whistle. The whistle is required and the phone tether is critical! Back to the truck I go.
Back in the water. Then I remember that I forgot the sunscreen. Back to the truck.
It was really beautiful out in the calm water.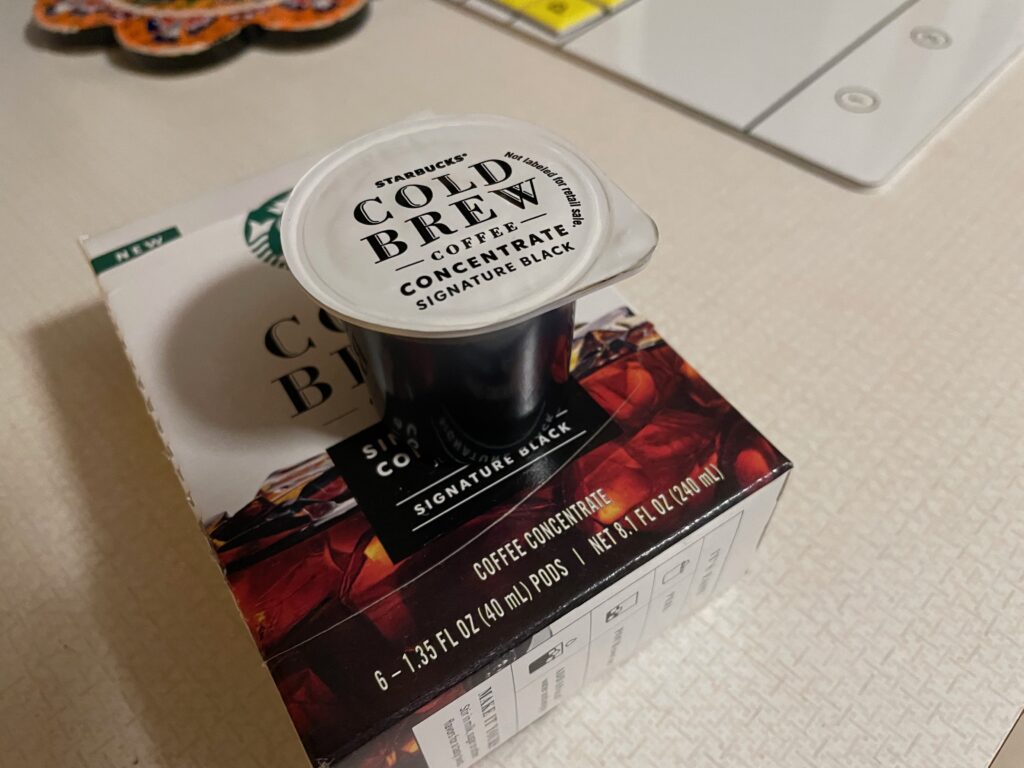 Then I spilled my coffee. I've been taking these Starbucks (I know … I feel the shame) concentrated cups and just putting them in a bottle of water. I have to have coffee/caffeine in the morning. Period.
I had a series of progressive goals. I really need that sense of achievement. 1) Catch a bass 2) Catch at least 5 bass (the longest 5 count) 3) Finish in the top 50%
With those goals in mind, I had basic lures tied on that are reliable at catching, even if they don't target big fish. I just wanted to start meeting goals and get fish in the boat early. Once I had the 5, I was going to move to bigger lures and go for bigger fish.
That all changed when the sun started to peek over the horizon. The fish were bubbling at the top all over in the small cove I was in.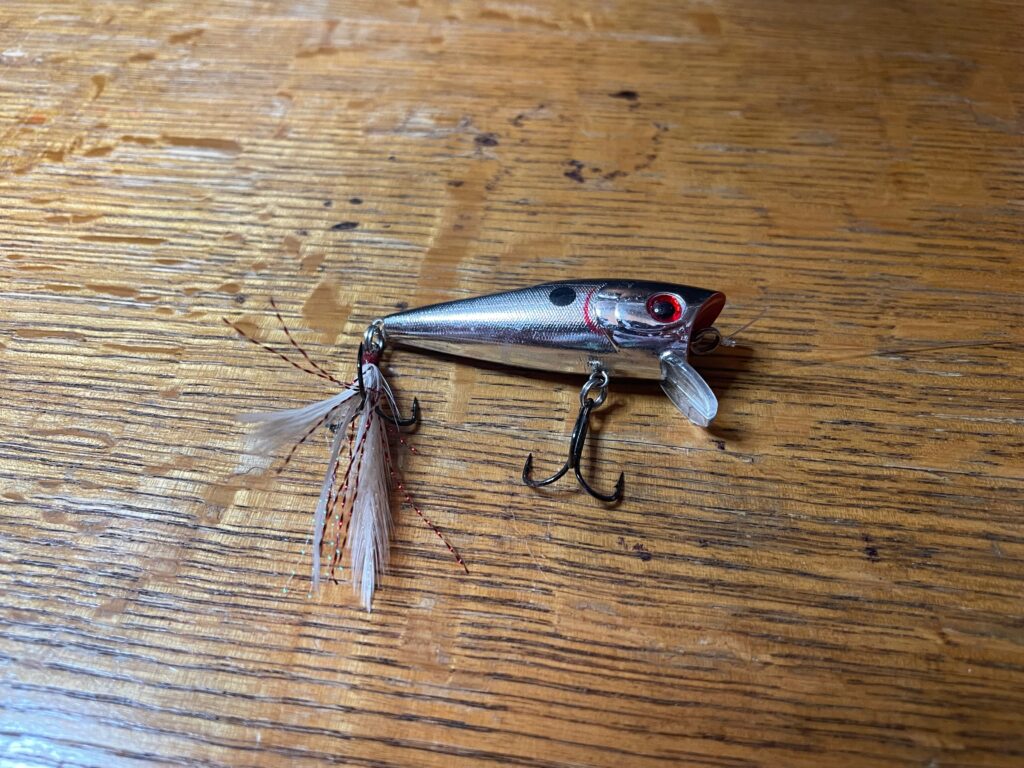 I grabbed my medium-light spinning rod and took of the ned rig and replaced it with a Booyah Prank. This lure is really fun to fish with because of how versatile it is. It's a top water popper, shallow crank bait, and even shallow jerk bait all in one. Two casts in using it as a popper and I hooked one. I didn't set the hook enough and the fish shook the lure. I through it back out to the same spot, but instead of popping it, I ran it like a crank bait. Sure enough, he bit! The first fish was on the board!
After seeing that I completely abandoned my strategy and tied on a Berkley Choppo. Heading upstream, I'd through it back into any pocket and vary the speed of the retrieve. That got me two more fish in the next 30 minutes! This was my largest lure, but grabbing smaller fish than expected. After 30 minutes without a hit, I change tactics and continue up into the clear stream.
I see hundreds of bass in the ultra clear water. I start throwing everything I can right into a school of them. I'll see them look at the lure … even follow it, then lose interest. I tried senkos, craws, ned rig, wacky rig, the Prank. Nothing.
I get up the where the creek splits and try the Choppo again. After a few casts into that convergence two fish jump at it at the same time and just knock each other off! I continued with that lure for around 5 minutes with no other action.
I was at a point where I could see fish and I just needed to catch two of them. I see a bunch hanging around 5 feet deep all along a bluff wall.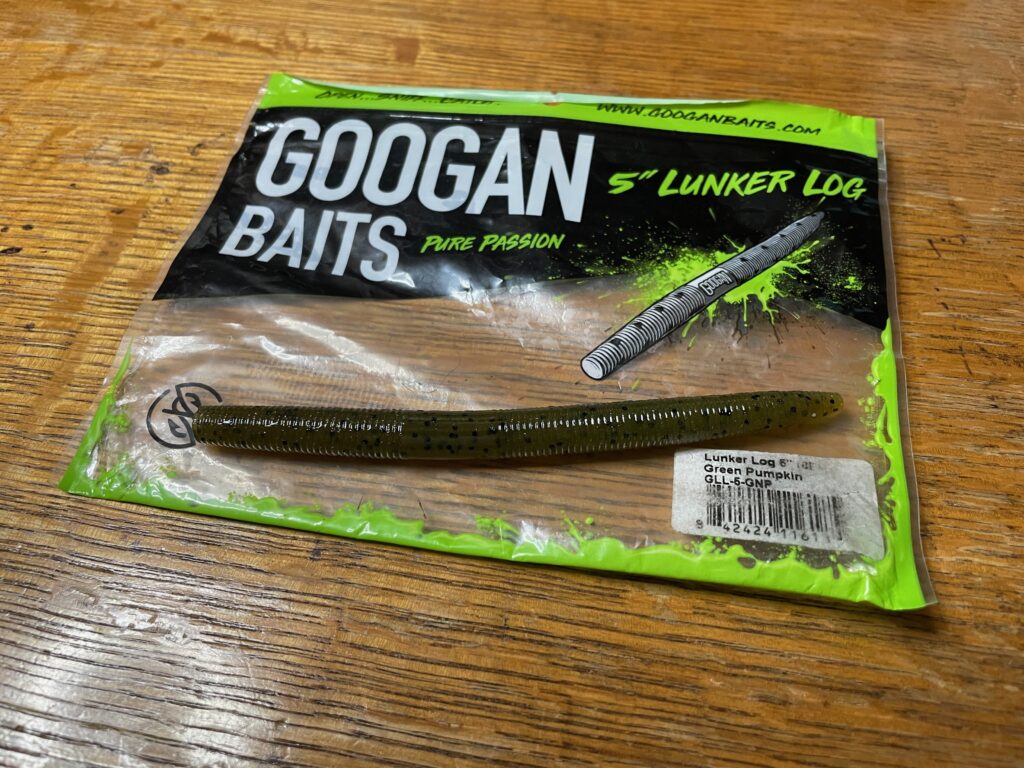 I start throwing Googan Squad Lunker Log on a wacky rig right up against the bluff wall. I'd let it fall for 5-10 seconds, give it a quick twitch and set the hook on a fish. It was amazing to get bites that easy! Unfortunately, they were all small males and basically identical in size. I caught around 5 fish using this technique which means I met goal number 2! I had 5 fish, a limit on my first tournament!
This was the area that I ran into some other anglers. They were coming up the same. Lots of little fish. No one else stuck around that creek very long.
The weather was changing quite a bit. It would go from clear to overcast. Calm to windy. It was hard to read the conditions. I moved out of the creek and back toward the lake. There were a few docks near by and I tried flipping a jig around them.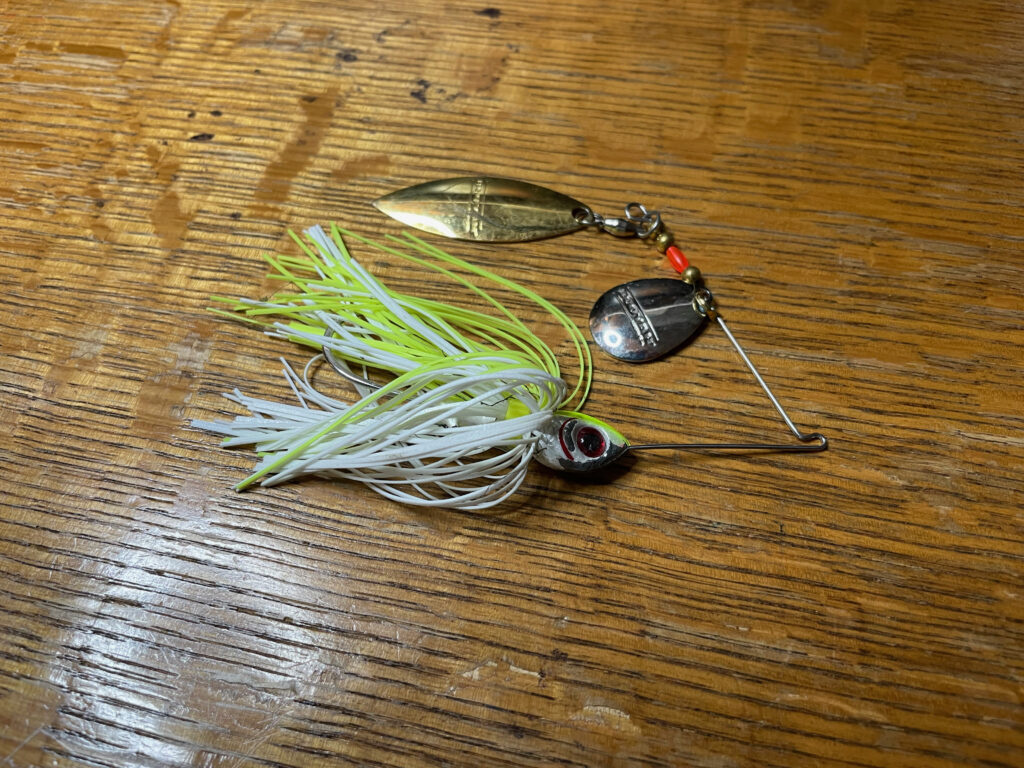 The wind and clouds settled in and I saw a few bass jumping at the top. I switched out to my reliable chartreuse and white spinnerbait and started throwing all around the cove. This got me one more keeper!
I tried around the docks again with no results and headed back upstream to pick apart some wood piles.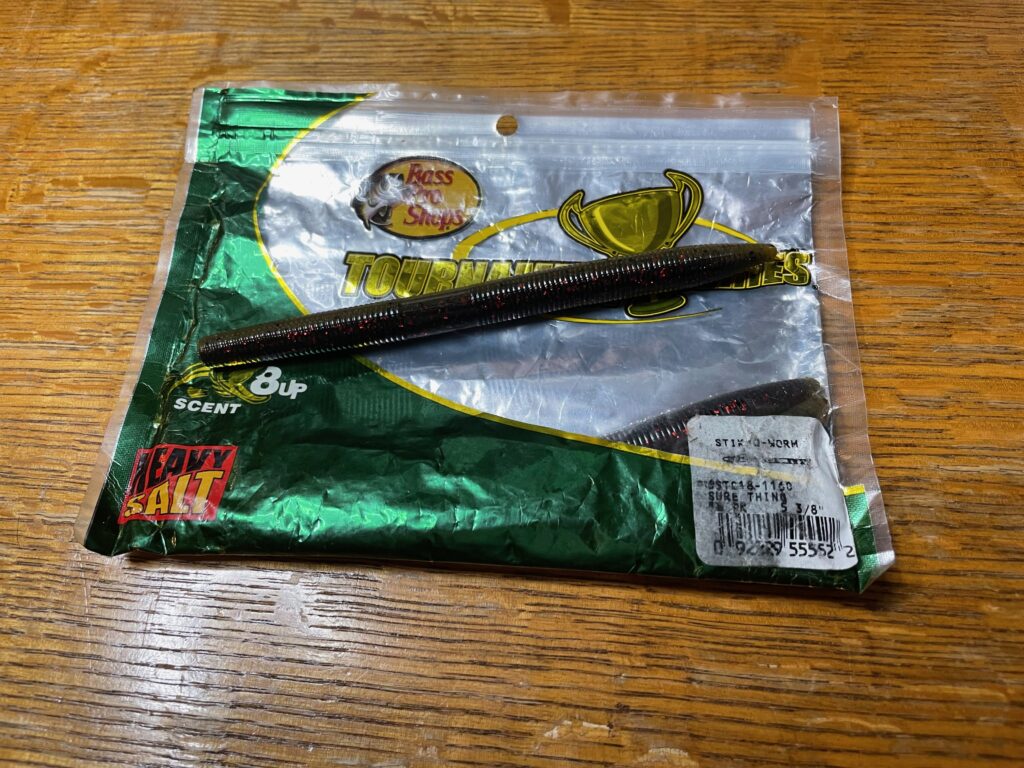 I tied on a Texas rig with a 1/4 oz. weight and went to a good ole plastic worm. I was using the Bass Pro Stik-O in a pattern called Sure Thing. This is a mix of a dark red and green. It works for me, but I get frustrated because it doesn't help me build a pattern. Was the fish going after then red side or the green side?
I'm throwing this into and along side isolated wood piles and just dragging and twitching. Working it REAL slow. I get a big bite and the fish drags it under a log and the line goes soft. Then the line get complete stuck. I did everything I could to get the rig back but ended up cutting it off. I tied on another one and kept at it.
I ended up catching two bass, and a bluegill on on that particular setup. At this point I had about an hour left to fish and I swapped the 5-3/8″ worm for the 7-1/8″ worm hoping to get at least one big one. Unfortunately, that didn't happen. I loaded up and started driving to the judging area.
MoYak provides food, and all anglers that show up get entered into a raffle. They also do a tackle giveaway. You enter by putting in a new, unopened lure and the winner of the drawing gets all the tackle!
As the deadline came close, people were definitely uploading more fish photos and I watch my name drop from 67th place all the way down to 80th. There were 102 angler registered so I was no where near my third goal.
That said I was extremely happy! I fished in a tournament. Caught fish. And just had a great day on the water. The raffle was good to me too! I took home a $50 YakAttack gift card!
I can't wait for the next one!