I'm still new to fishing overall and very new to kayak fishing. That said, I tend to jump fully in to anything that I do. This year, I'm committed myself to fishing in two tournaments in the Mo-Yak Fishing Series.
I preparing for that I've upgraded my boat, started learning the electronics, and most importantly, started practicing. There's a ton that I need to learn. A big part of that is how to be on a kayak for a full day. So I made some of that time this weekend.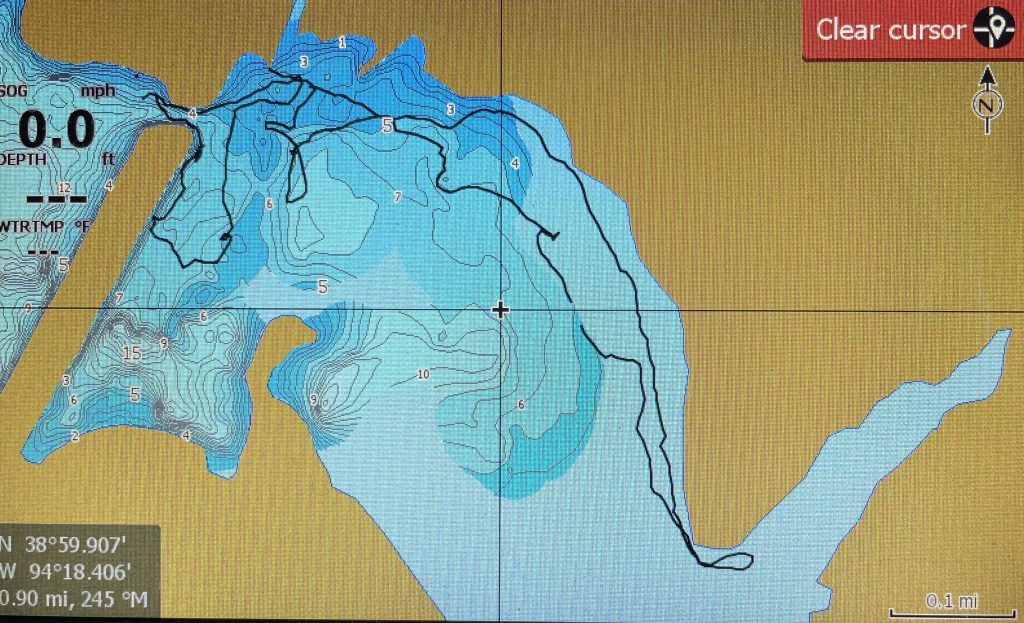 I started on Blue Springs lake and paddled around some interesting areas with the fish finder running. This was a huge help in learning how to interpret and use the data. Since I'm partly familiar with this water it was a big help in getting acclimated. I did have a recurring issue when I would lose the depth reading but the sonar and down imaging continued to work. That was pretty frustrating. I did a full hard reset and took out my map card to see if that was causing an issue. That didn't fix it so I continued rebooting the device throughout the day. I was worried that I'd have to buy a new one.
I didn't see any sign of aquatic life in that section of the lake. Apparently, neither did the boaters. No one stuck around on that side very often. I threw a few different lures around, but got nothing.
While over there, I was able to play around with my anchor setup. I've got an Anchor Wizard reel, an anchor trolley, and I'm using a Da Bomb anchor. I'm probably going to add the Anchor Wizard chute to the front of the boat and not use the trolley. While I could use them both, it wasn't as handy as I want. Even skipping the trolley and just going through the pad eye mounted to the side didn't work how I wanted. I couldn't just reel up the anchor and paddle, the anchor would hang into the water some. I like to stop and start quick, so I think using the chute will more fit my style of fishing.
I did have a few times where the anchor really dug into the silt and mud. No fault of the anchor, just something that I need to think about when I'm dropping anchor.
I packed up and headed up to Lake Jacomo.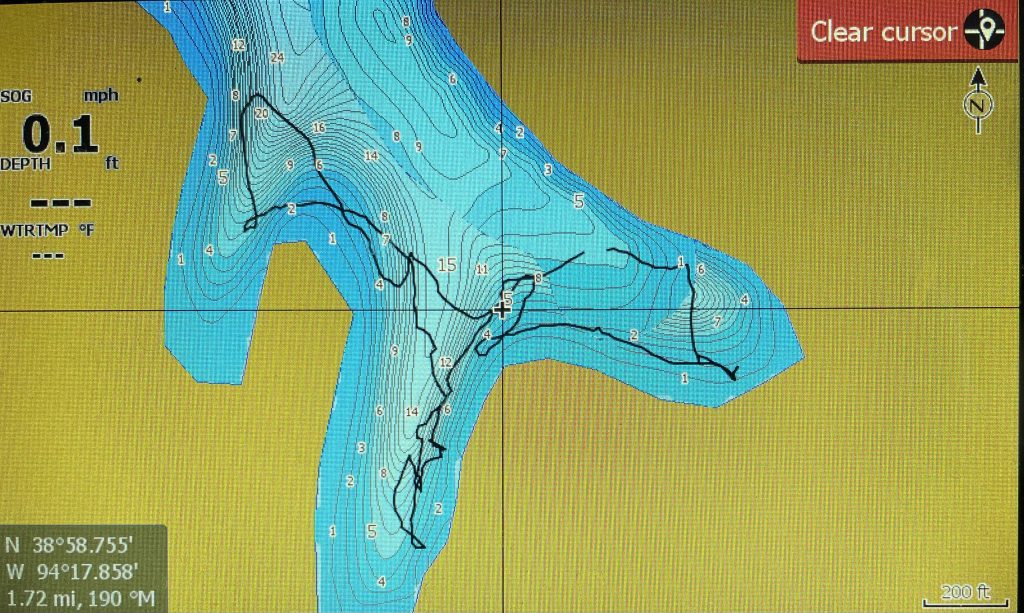 This was good practice in loading/unloading the kayak and gear. It's getting better each time I do it! This thing is still heavy! Especially when I leave it rigged up.
Jacomo wasn't more lively for bass. I started following where I saw heron and gulls and ran into a mess of silver carp that were popping at the surface. At this point, I paddled back and loaded up the truck. This was 6 straight hours on the water and it wasn't too bad!
I had a fly rod and and ultralight spinning rod in the truck and stopped by where I saw those carp popping. Figuring, there might be other fish in the mess. I was right!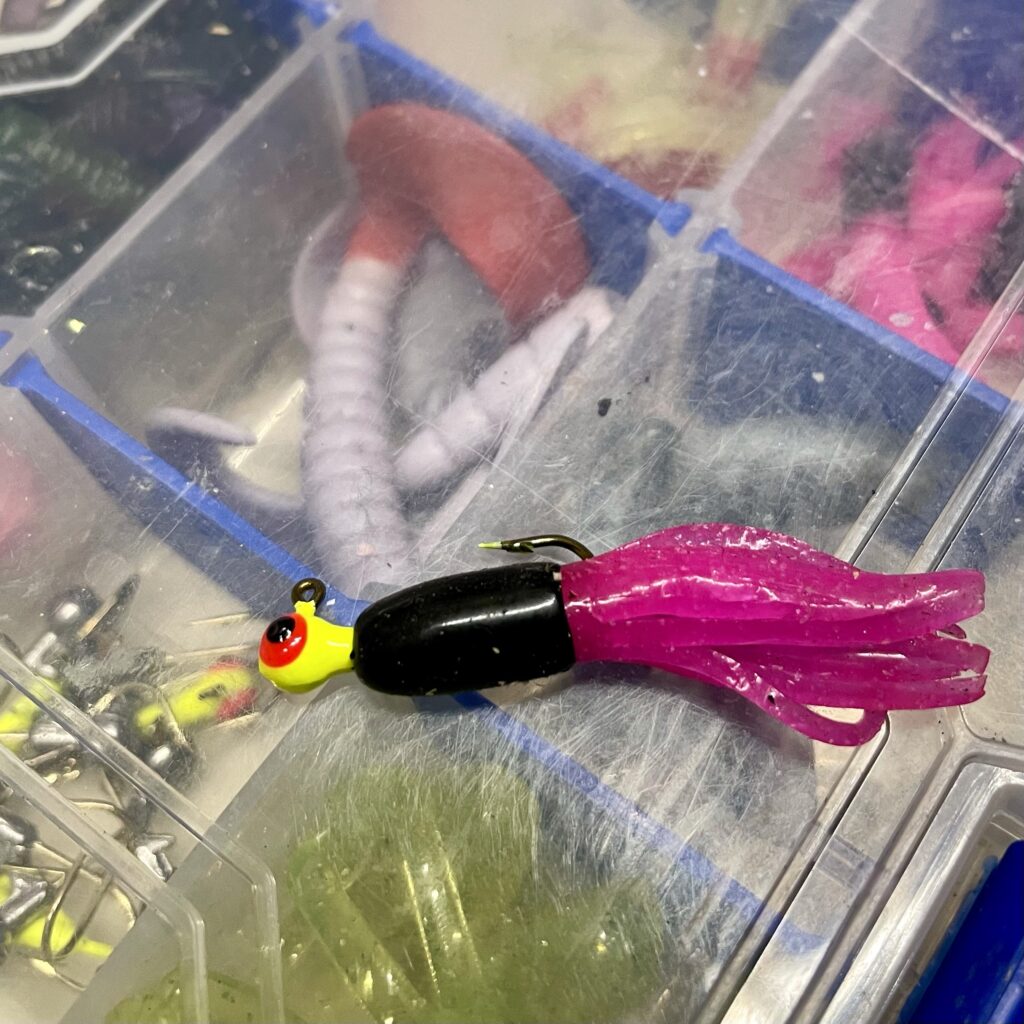 Nothing hit the fly, so I swapped over to my ultralight spinning combo with my favorite crappie jig. Right away, I get a small hybrid white bass! Too small to keep but it's a real live fish!
A couple more casts and I snagged one of the silver carp. I never expected to snag on a crappie jig … but there you go. These things are horribly invasive here so I just culled it and left it for the bird.
Third species of the day was a little crappie.
Totals ended up around a dozen white bass, two crappies, and snagged two silver carp. All this happened in about an hour. Not what I was fishing for, but I enjoy catching!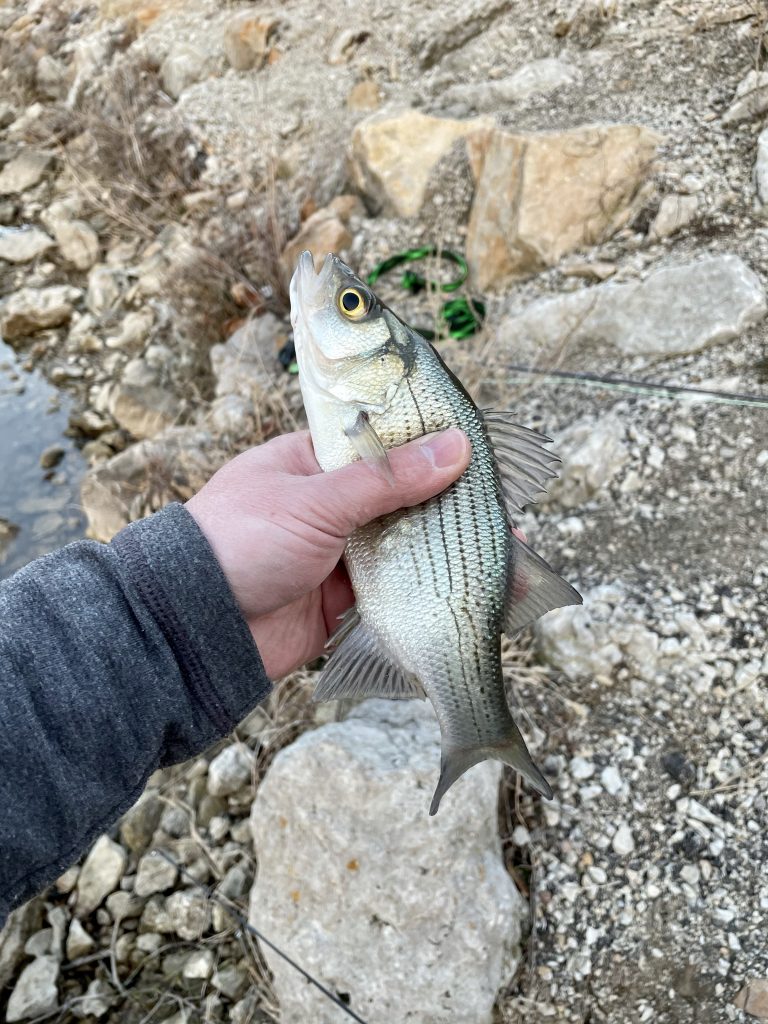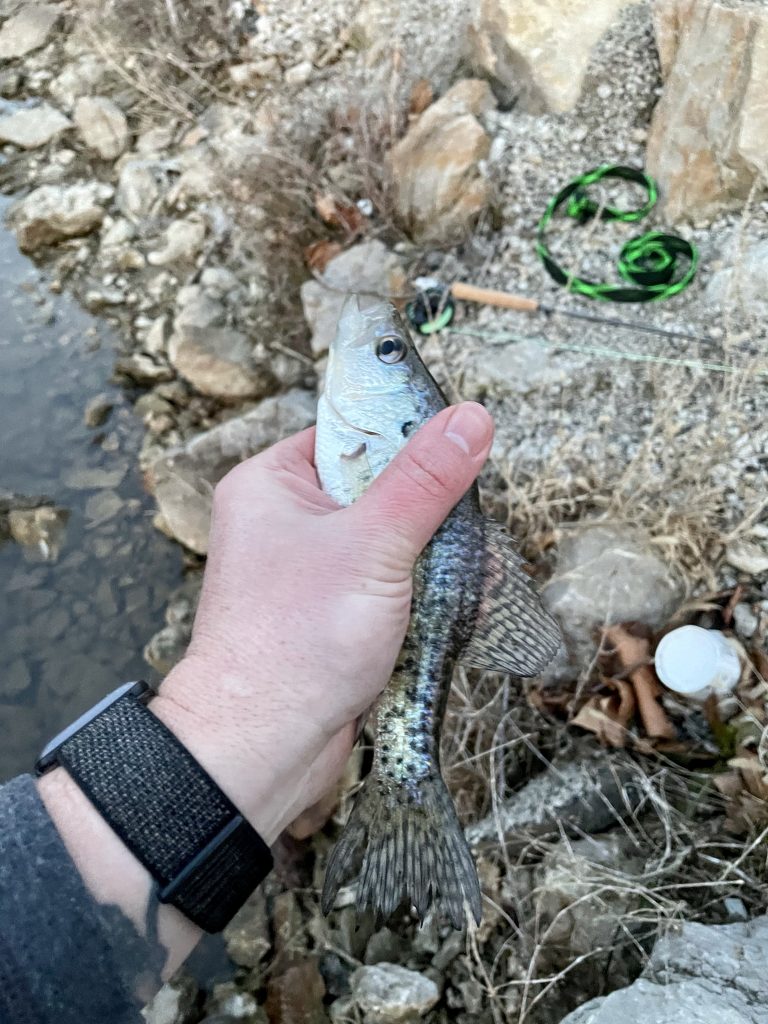 Back home around 7:00 p.m. Ate some pizza, drank a couple beers and started researching my electronics issue. I found some people having the same issue and all of them referred to the transducer mounting. They found that the rear of the transducer was sitting higher than the front and that was causing the erroneous readings.
I flipped my kayak over and the bracket for the transducer was bent up a bit leaving the rear noticeably higher than the front. I'll be correcting that before my next outing.
Water Conditions
Blue Springs Lake
Water Temp: 47 – 50 F
Clarity: Low, Stained to muddy. Roughly 1′ visibility
Air Temp: 45 – 65 F
Conditions: Windy 6 – 10 MPH
Lures:

Black and blue football jig, blue glitter craw trailer
Bluegill finesse jig, green pumpkin craw trailer
Green and red (Sure Thing) Stik-O Texas Rigged
Black and blue football jig, rattle, black glitter craw trailer
White super fluke on belly weighted hook
Lake Jacomo
Water Temp: 43 – 48 F
Clarity: Varied, clear to muddy, 1′ to 5′ visibility
Air Temp: 45 – 65 F
Conditions: Windy 2 – 6 MPH
Lures:

Black and blue football jig, rattle, black glitter craw trailer
White super fluke on belly weighted hook
Chrome and blue lipless crankbait
Green and red (Sure Thing) Stik-O Texas Rigged
1/32 oz chartreuse jig head with black and pick trailer
Black and red bead headed fly