These are early details and subject to change.
October 1st, 2022, I'll be hosting a kayak bass fishing tournament on the Jackson County, MO lakes. This includes Blue Springs, Jacomo, Prairie Lee, and Longview lakes. Species will be Black Bass (Largemouth, Spotted, Smallmouth, etc.) For more info on kayak tournament fishing, please read this: How It Works – Mo-Yak Fishing Series (moyakfishingseries.com)
This tournament will follow the KBF Competition Rules Standard. Competitors must launch from a County approved launch area and must stay within the bounds of County park territory. Creeks and streams connected to the lakes are in bounds within the green park areas on the maps. You may portage over a temporary barrier (fallen tree, heavy vegetation, etc.) but the two areas must be connected by water. This is roadrunner style, you can pull out and move to another launch point.
TourneyX will be used to manage the tournament. Only Ketch boards will be allowed at this time.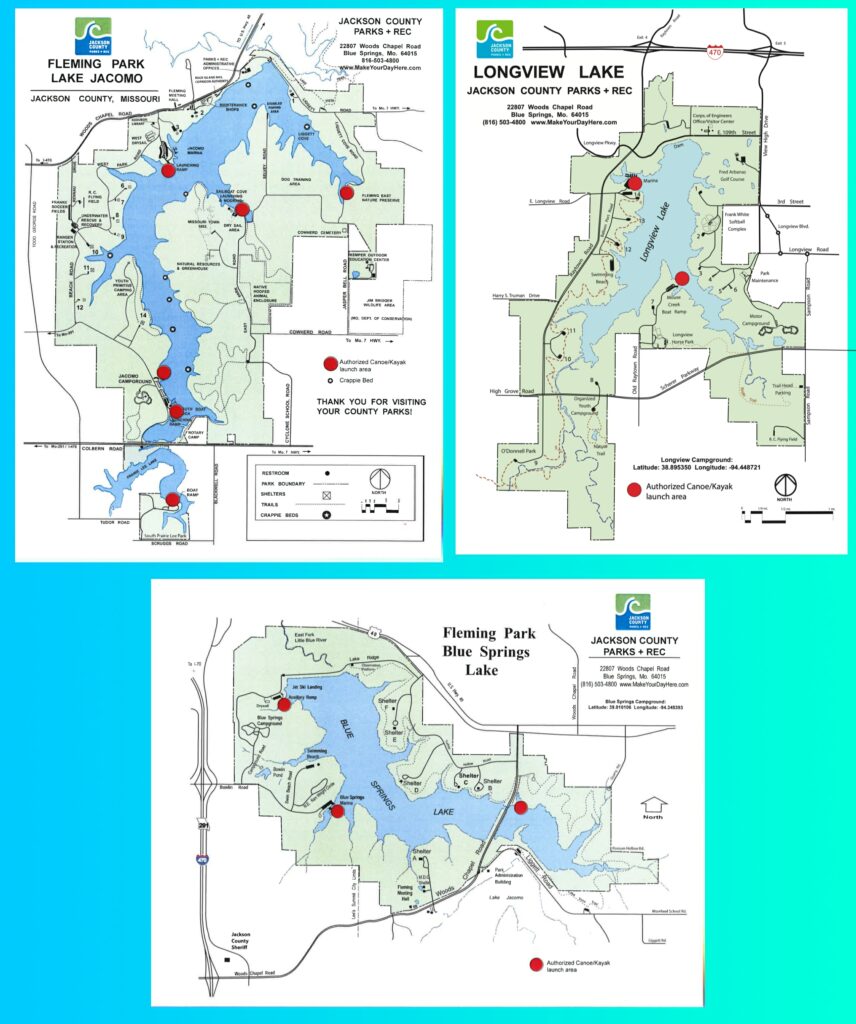 The Details
Anglers are entering at their own risk
Date/Time

Date: October 1st, 2022
Captain's Meeting on YouTube on September 30th at 7:00 p.m.
First Launch: 7:00 a.m.
Lines In: 7:30 a.m.
Lines Out: 3:00 p.m.
Deadline for submissions: 4:00 p.m.

Entry Fee and Payout

$20 entry, optional $5 Big Bass
Payout will be 100% of entry fees minus the TourneyX and PayPal fees
Top 10% will get prizes

Example with 20 anglers: 1st – $165, 2nd – $95, 3rd – $20
Example with 40 anglers: 1st – $260, 2nd – $180, 3rd – $100, 4th – $20

Payout will be done via PayPal 24 hours after Deadline for Submission (4:00 p.m. day of tournament)

Boundaries

Blue Springs, Jacomo, Prairie Lee, and Longview Lakes
Must launch at a County authorized launch point

Licenses and Permits
Safety

The Competitors are participating at their own risk.
USCG required equipment must be used: light source, sound emitting device, USCG approved chest-type PFD
USCG approved PFD must be worn at all times during competition. Competitor may cease competition and removed when beached, anchored, or adrift if doing so does not create and unsafe condition. The PFD must be on and fully fastened before resuming competition
Angler's craft must comply with all state and federal laws
Use of alcohol or drugs (other than those purchased over the counter or prescribed by a licensed physician) will be grounds for disqualification
In the event of an emergency call 911
The event will not be canceled due to weather unless it is a major safety issue: lightning, high winds, tornadoes, etc. The Tournament Director will clearly communicate with this with the Anglers
Jackson County additionally requires red/green navigation lights for all craft operating after sunset and before sunrise (even those without motors). This tournament will be within daylight hours.

For anything not specified, we will fall back to the KBF Competition Rules Standard